We are a US manufacture of Logo Floor Mats.  Customize your floor mat with logo for business, restaurant or Corporate office.  Get your logo floor mat today!  Logo floor mats are nowadays the first thing you find at the entrance of any establishment; these types of mats enhance the look of a business or a residential place. Logo floor mats can display high quality logos or business messages; you can have from a realistic image to a simple welcome message.  In addition logo floor mats can be produced in a wide range of colors, there are beautiful color palettes for each of the logo mats we carry, also you can have them with a fabric surface for a more elegant feel or with a rubber surface for outdoor purposes, like one of our best seller the Rubber Scraper Logo Mat, this beautiful and long lasting logo mat is most popular and widely used mat due to many of its great features, such as: wedge shaped texture offers superior slip resistance, unlimited color options, mat surface is made of nitrite rubber with circular scraping cleats which helps eliminate dirt from the bottom of shoes, come in a large variety of sizes and generates outstanding pictures details and precision due to high quality images that are embedded with superior color tones and shades.
Another great logo floor mat we are very proud to offer is the Jet Print Logo Mat, our clients cannot get enough of this exceptional logo mat, it is manufactured with the new high technology Chromojet 800 machine which produces the next generation of logo mats with the most photo realistic images ever seen, the Jet Print Logo Mat is ideal for any type of business and can be used to display state-of-the-art high quality printing of logos or business messages, this stunning logo mat have incredible features like: high quality durable rubber backing prevents slips and falls, simple to clean: just vacuum, use a carpet cleaner or commercially wash, no minimum order quantity is needed, the surface is made with top of the line nylon fabric, and you can choose 14 color combination out of a beautiful 54 color palette.
Better First Impressions with Logo Floor Mats
When you walk into businesses of all sizes these days, the first thing you see is the logo floor mats. Many companies have contracts to keep their floor mats fresh and ready. Not only can you have your mats cleaned. You can also rotate them to reduce the stress on your already heavy schedule. Even if your logo is relatively straightforward, first impressions are everything. A crisp mat with an attractive logo tells customers you're a professional.
Businesses have done just about everything with floor mats with a logo. Some keep it simple with neutral colors and their primary logo. Others add messages and slogans to drive slogans home the minute someone walks in the door. What if you don't like the simplicity of a black mat? You can choose just about any color scheme. This includes bright mats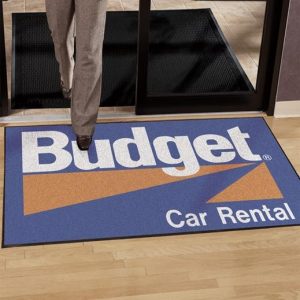 designed to catch your attention immediately.
Expect Quality When You Buy Ace Logo Floor Mats
At Ace Logo Mats, quality comes first. It's not just about the appearance. Yes, logo floor mats are attractive when you first buy them, and they should be. The attractiveness should go beyond first impressions, though. What will your logo look like a year from now? Your business expenses matter. Buying mats too often cuts into your profit margins, even if you initially find a cheap price. Ace Logo Mats offers a variety of floor mats, all designed for the highest quality and longevity. Depending on the environment you work in and your expected foot traffic, some of our most popular options include:
Rubber Scraper Logo Mats
Our rubber scraper logo mat is easily our most popular seller. With a wedge-shaped texture, you don't have to worry about common liabilities. Its nitrile rubber also makes it ideal for both indoor and outdoor use. One of the primary benefits of floor mats with a logo is practical. Business owners want to catch the dirt before customers can track it into their facilities. This reduces cleaning costs and improves the daily presentation. Rubber scraper logo mats keep their shape and design while also providing these benefits.
Jet Print Logo Mats
This is one of the only mats you'll find manufactured with the Chromojet 800 machine. This next generation in floor mat technology, the Chromojet 800 creates a more photo realistic image that lasts. To clean it, all you need is a standard vacuum. Just like our other mats, its strong rubber keeps it in optimal shape. These mats prevent slips and falls and the spread of debris.
We Fill Small and Large Orders for Logo Floor Mats
Whether you need to equip a small office or a large multi-level office building, Ace Logo Mats provides orders of all sizes. All our floor mats with a logo meet the highest standard of quality. Then we offer 14 color combinations with a 54 color palette. Our customers don't have to worry about minimum order requirements or extra fees. You just get affordable mats that last.  If you have any questions about our logo floor mats don't hesitate to call.