WE are a USA manufacturer of wide range of commercial floor mats. We provide custom commercial Entrance mats, commercial outdoor floor mats and many more.  Commercial entrance mats are very important and have a lot of benefits  since these type of mats help businesses of all kinds provide a safer, healthier and more attractive environment. Employees, customers, patients, students, tenants, guests and visitors will benefit from having an indoor air quality improvement; in addition they will have protected interior flooring.
There are many benefits about a proper entrance matting system, but often it seems so simple that most if the time is overlooked, however it is so significant to a clean, safe and healthy environment.
One of the most relevant benefits about top of the line commercial entrance mats is safety, these products work perfectly to improve safety and reduce the risk of liability from potential slip and fall accidents, on the other hand inferior matting products curl at the edges or slide on the floor which can result in a tripping hazard and work against the safety benefit. Durable matting products with quality backing and edging will ensure that mats remain flat and securely in place.
The best and most effective entrance matting systems benefit consists with scraping off dirt, removing additional debris and moisture, and drying any remaining moisture to effectively clean the bottom of shoes before reaching the interior flooring.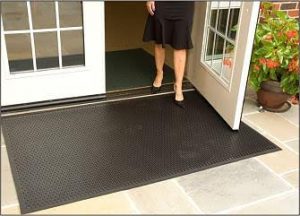 There are different types of commercial entrance mats, including different surface patrons for all kind of business needs and price requirements. In addition, there are many types of materials that can be used for either indoor or outdoor, even environmentally friendly material which help to protect the environment. Whichever the material might be they all have the same purpose, to ensure the floors remain safe and dry.
Finally another advantage about these products is the clean look that provides to the entrance on the businesses, this is definitely an excellent plus helping companies project a great image to the public.
Benefits of purchasing commercial outdoor floor mats from Ace logo Mats
Keeping a clean and healthy environment is very important for any business to succeed. With a clean environment your employees will be more productive and efficient, hence bring in more revenue for the company.  Entrance mats for offices play an important function when it comes to keeping your office clean and healthy. Ace logo Mats designs mats keeping in mat the use these mats will go through and, therefore, uses only the finest products available. These entrance mats can serve a variety of purposes for your business ranging from branding to bacteria control. Below are few advantages of installing commercial floor mats on entrance:
Safety and floor mats:
Custom commercial floor mats benefit a business by serving a safety purpose. Safety is a vital component when your office has employees and guests coming through the entrance door. The area that has high traffic is prone to dangers such as slipping and falling and contamination of bacteria through dirty shoes.
Ace Logo Mats can minimize the risk of fall as these are made out of non-slip material that reduces chances of fall and folds in a mat to a great extent. Apart from the risk of fall, these mats also serve as a cleaning equipment by removing dirt, grime and moisture from the visitor's shoes.  The dirt can easily be removed from these mats afterwards by a simple use of a vacuum cleaner. This will not only keep the environment clean but also cut down cleaning costs of your office for custom  floor mats.
Floor Protection through entrance mats:
Entrance ways and corridors are some places that have high traffic of people. Due to this the expensive flooring such as tiles, concrete, granite or hardwood can damage with the passage of time. Repair of this damaged floor will not only stop the functionality of the office but also cost you a fortune on replacements.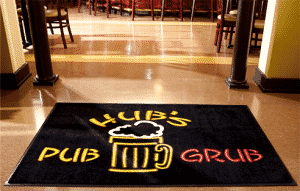 Commercial floor mats for office space, provide a perfect solution for the safety of your expensive flooring. These mats protect your floor while providing a shock prove feature that can sustain any heavy impact on the floor and prevent from damaging the material.
Ace Logo Mats provides a variety of entrance mats for your office space. You can choose from different styles, colors and sizes according to your requirements. We only use materials that are guaranteed to stand the beating of time while providing the safety feature to anyone who steps on it.