Plain Vinyl Loop Mats
Overview
Application
Plain Vinyl Loop entrance mats are handcrafted and durable. This entrance mat can fit custom sizes needs. Available with flat or beveled edges. Plain Vinyl Loop mats are non skid, so it can be easily used in multiple entrance points where moisture is high. To Order: Specify the color and size and choose beveled or flat edges.
Features & Benefits
Choose from 3 vibrant and long lasting colors
Non-skid design prevents slipping and protects your investment in floors, floorboards or carpets
Great for outdoor or indoor use
3/8" thickness
Available with  flat edges
Anti-fungi protection
Easy to clean. Simply vacuum, shake or rinse with a hose and allow it to dry
No minimum order
PVC vinyl smooth backing
Placements
Plain Vinyl Loop entrance mats are an excellent choice for high traffic entrances, retail stores, malls and commercial settings.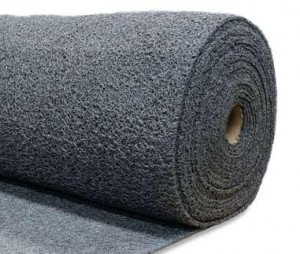 Plain Vinyl Loop Rolls
Application
Ideal for swimming pool and aisles, these mats offer a dry and safe surface. Vinyl Loop Rolls also help to cushion and protect your feet from surfaces heated by direct sunlight.
Placements
Outdoor entrances, aisles, rest areas, assembly lines, swimming pools, changing rooms, and any humid area.
Sizes & Prices
PLAIN VINYL LOOP MAT
Flat Edge
| | | | | | | | | | | | | |
| --- | --- | --- | --- | --- | --- | --- | --- | --- | --- | --- | --- | --- |
| Stock | Size | Weight | Qty. 1-3 | Qty. 4 | Qty. 5 | Qty. 6-9 | Qty. 10-19 | Qty. 20-29 | Qty. 30-49 | Qty. 50-99 | Qty. 100-249 | Qty. 250+ |
| 100422 | 3′ x 5′ | 18 | $210 | $186 | $158 | $140 | $126 | $116 | $95 | $76 | $68 | $61 |
UNBACKED PLAIN VINYL LOOP ROLL
Standard Sizes
Stock
Size
Thickness
Weight
Price
Unbacked Vinyl Loop Roll No Edge
100506
4′ x 40′
9.5mm
3.5 kg/m2
Stock
Size
Thickness
Weight
Price
Unbacked Vinyl Loop Roll with Black BEVELED Edge
100507
4′ x 40′
9.5mm
3.5 kg/m2
Custom Sizes – Per Sq. Ft. – Cut Lengths (up to 40′)
Stock
Size
Thickness
Weight
Price Sq. Ft.
Unbacked Vinyl Loop Roll No Edge
100500
2′ wide
9.5mm
3.5 kg/m2
100501
3′ wide
9.5mm
3.5 kg/m2
100502
4′ wide
9.5mm
3.5 kg/m2
Unbacked Vinyl Loop Roll with BEVELED
100503
2′ wide
9.5mm
3.5 kg/m2
100504
3′ wide
9.5mm
3.5 kg/m2
100505
4′ wide
9.5mm
3.5 kg/m2